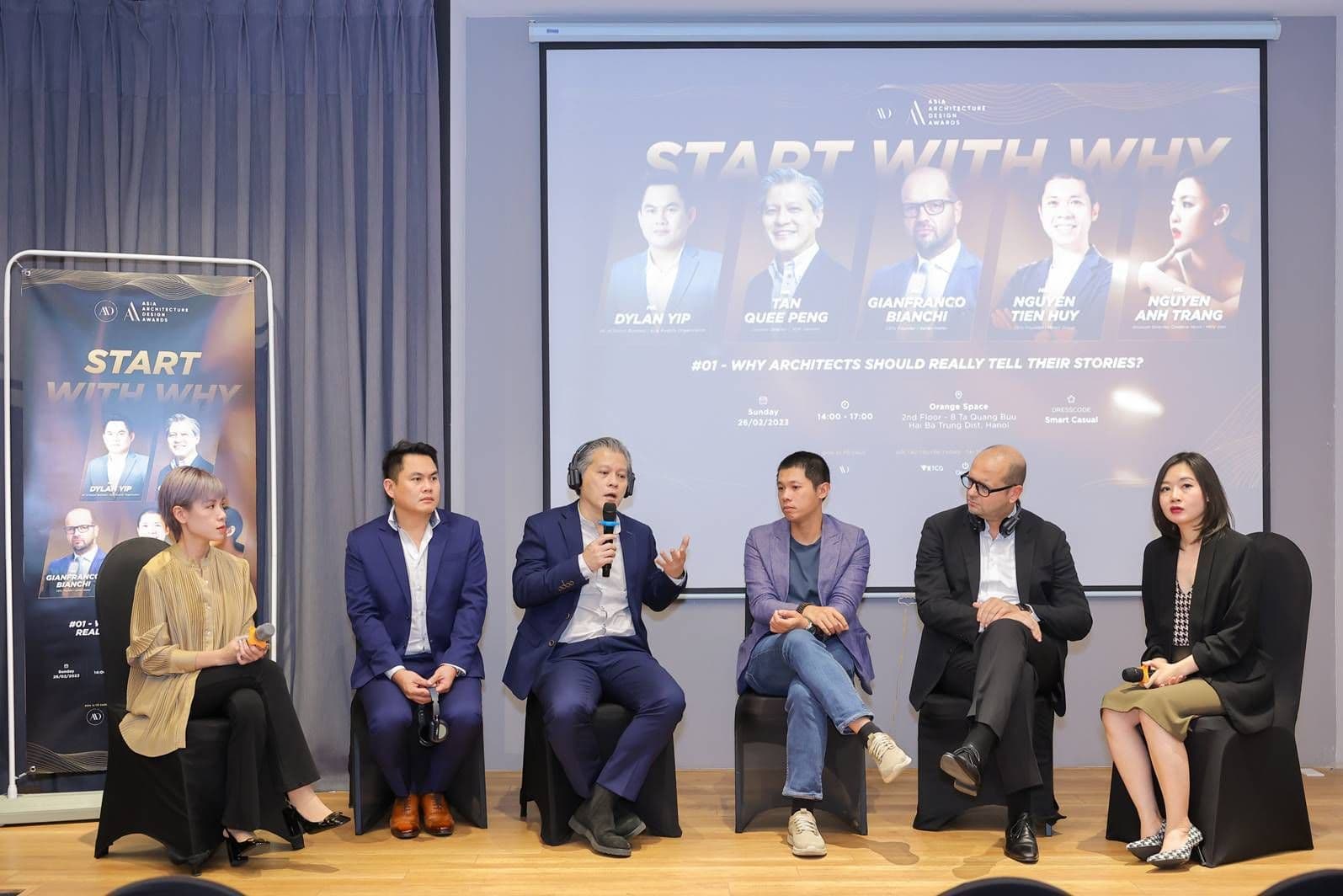 WHY ARCHITECTS SHOULD REALLY TELL THEIR STORIES?
In the context that Vietnamese architects are not only subject to fierce competition within the country but also with foreign architects, positioning and raising the brand are essential factors.
Share
by Asia Architecture and Design Awards
Experts predict that 2023 will be a challenging year for all sectors/industries as the global economy hits the recession's peak, directly affecting people's spending levels. In that context, competing with peers in the industry to stand out and attract customers is a crucial task.
The field of architecture, design and construction in Vietnam is projected to face a situation of low construction demand and high competition with both domestic and foreign competitors in 2023, forcing businesses to seek out new development orientations.

Conference hosted by AAO: Why architects should really tell their stories?
Currently, Vietnam does not have an exchange or a common platform for individuals and companies in the industry to promote themselves, making it difficult for customers to search and choose. Even when customers need to select a designer, a construction company or an architect that suits their needs on the Internet, it could be more streamlined. Most new clients come through referrals or brokerage and consulting firms.
Many individuals or companies in the industry need to be aware of the importance of creating a prominent brand to attract customers, thus directly promoting sales and business growth. There is an opinion that architects and interior designers prioritize the quality of the work over making a name for themselves, the company or the project itself. Because of that, we have a situation where Vietnamese architects are good at building people's homes, yet could improve in terms of building their own brands.
To create a space to share, find ways to break down limitations and provide direction on branding in the field of architecture, the Asia Awards Organization (AAO) and Vietnam Design & Build Center co-organized the seminar "Why Architects should really tell their stories?".
The event is part of a series of monthly activities in many Asian countries of the Asian Architecture Design Awards (organized by AAO) with the desire to promote the growth of the Asian architecture and design industry.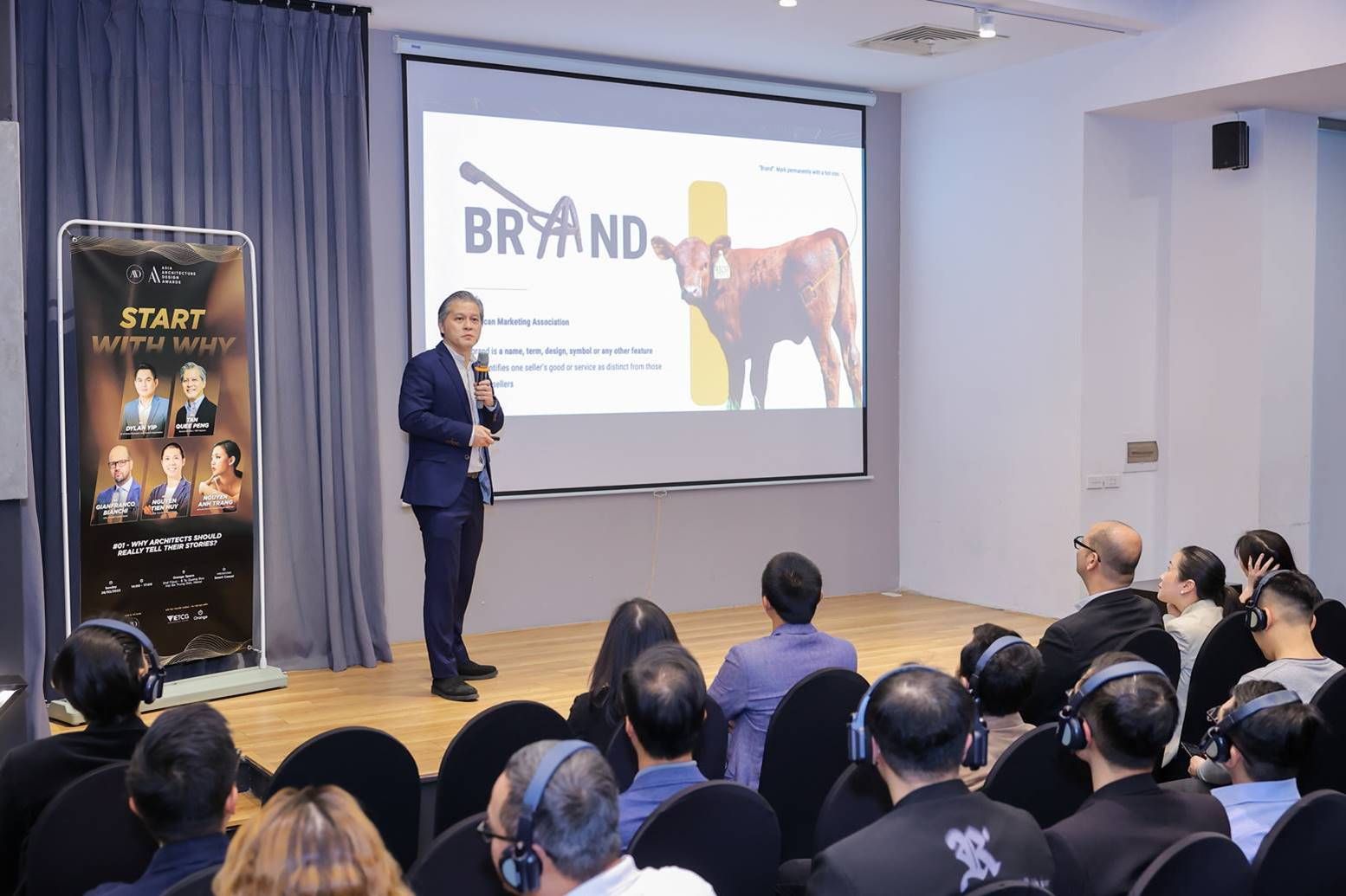 Mr Tan Quee Peng, Board of Advisor of Asia Awards Organization talked about personal branding for Vietnamese architects.
Participating in the seminar will be experts with extensive experience in the fields of real estate, architecture, interior design, and marketing, including: Mr. Dylan Yip, Vice President of Partnership Development, Asia Awards Organization Pte. Ltd; Mr. Gianfranco Bianchi, CEO of Italian Atelier; Mr. Nguyen Tien Huy, CEO Pencil Group; Mr. Tan Quee Peng, Green Mark Manager, General Director at RSP Vietnam; and Ms. Nguyen Anh Trang, Account Director, Creative Head of MVV SNP.
According to Mr. Yip, with a lengthy history of culture and skilled workers, Vietnam's architecture industry has great potential for development, reaching out to the region and the world if some existing limitations can be overcome. This is why AAO organizes free seminars to create opportunities for knowledge exchange and to ignite the growth of Vietnam's architecture industry.
The conference took place from 2 PM to 5 PM on February 26th at Hanoi, Vietnam